Driving me nuts

Printed From: British Clematis Society Forum
Category: Clematis
Forum Name: Postings
Forum Discription: General chat and help about anything Clematis
URL: http://www.britishclematis.org.uk/forum/forum_posts.asp?TID=561
Printed Date: 21 Jan 2021 at 1:51am
Software Version: Web Wiz Forums 9.06 - http://www.webwizforums.com


Topic: Driving me nuts
---
Posted By: csarina
Subject: Driving me nuts
Date Posted: 16 Jul 2013 at 1:25pm
---
I am trying to post a picture of a clematis for identification, how do I get it small enough for the site to accept it????? Everything I have tried so far is too big, getting very frustrated!!
---
Replies:
---
Posted By: csarina
Date Posted: 16 Jul 2013 at 2:10pm
---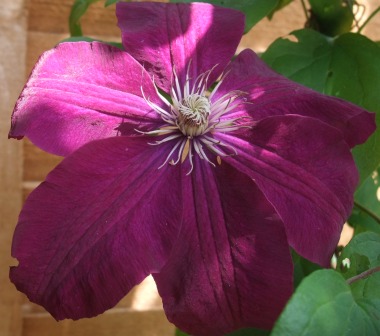 At last I have managed to do it, amyone have any idea which clematis this is???

We moved into a new,to us, hose in April. A fence panel had been replaced and a couple of weeks later I noticed the clematis poking its head up. I can only assume it got trampled when the panel was replaced and cut down. I guess it is a summer flowering one, so will need to be pruned after flowering???? or does it need to be cut down in the spring?
---
Posted By: Wim Snoeijer
Date Posted: 17 Jul 2013 at 3:50pm
---
Dear Csarina, I think your plant is Clematis 'Rouge Cardinal'.

Wim

-------------
Wim S
---