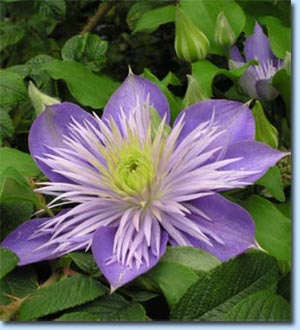 A stunning introduction from Japan in a similar vein to 'Multi Blue'. The double flowers can measure up to 12 cm across and are produced in May-June from last years old growth and then again in August-September from this years new growth although these tend to be slightly smaller in size depending on your feeding regime.
The buds of this early flowering large-flowered cultivar open out to reveal the violet-blue sepals.
The central boss is made up of a mass of very narrow sepals which begin white but gradually change colour to a lighter shade of the main sepal colour. These narrow sepals then turn a light green as you reach the centre of the flower. As far as I can tell the flower is infertile and does not give seed.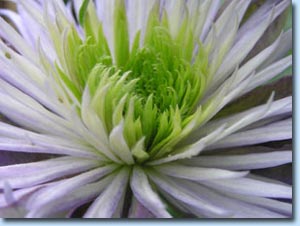 This early flowering large cultivar is a member of the pruning group 2 (light prune) fraternity and reaches a height somewhere between 6-8' (180-240 cm).
A medium strength growing cultivar suitable for sun or semi-shade where it will not fail to impress but an absolute ideal plant for growing in a container where if fed well it will put on a magnificent show. As the plant cannot reproduce the central boss remains for quite a few weeks (much longer than your usual early flowering large types.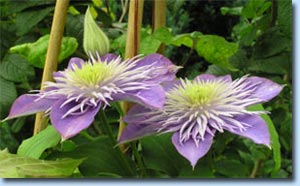 This cultivar rewards those that look after it well and by this I mean planting position, feeding and pruning. A lot of energy is used by these large hybrid cultivars and they must be fed to produce a good show. Plants like this must be fed regularly on a high potash feed (diluted tomato feed) to produce these lovely flowers. A mature plant in full flower is certainly a show stopper but these sort of results need good care especially when planted in the ground and not in a container.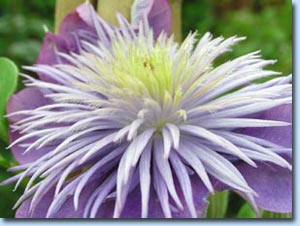 The sun bleaches the sepals as it does on most other cultivars so some slight shade may be preferred but is not essential.
I have found some of the stems will suffer from the dreaded 'clematis wilt', although never the whole plant so a fortnightly systemic fungicide spray should also be placed on the calendar.
Quite an easy plant to get hold of a few years ago but with the increasingly high number of new introductions the garden centres do not always stock the now out of favour older introductions.




| | | |
| --- | --- | --- |
| Flower Colour | - | Sepals are a violet-blue with a large central boss of petaloid staminodes |
| Pruning Group | - | Group 2 |
| Hardiness | - | Zone 4 |
| Height | - | 6-8' or 180-240 cm |
| Flowering Season | - | May-June & August-September |
| Aspect | - | Sun or Semi shade |
| Fragrant | - | No |
| Evergreen | - | No |
| Other info | - | A sport of 'H.F.Young' - CRYSTAL FOUNTAIN is its Trade Name, its registered name is 'Fairy Blue' and was raised in Japan by Hiroshi Hayakawa. |