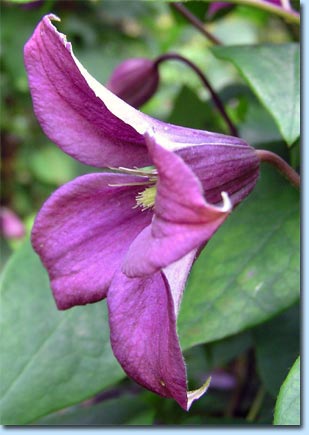 This is a an unusual clematis raised and introduced by Barry Fretwell from his now closed nursery in Devon.
This herbaceous low growing non-climbing cultivar has initially somewhat tulip shaped flowers (like the texensis cultivars) although as the flower ages they tend to open out wider to a point midway between this state and an open flowered medium sized cultivar. The 4-5 sepals are about 6-7 cm long although the flower may only be 5 cm wide during its early flowering period. The sepals are a rich reddish-purple on both the outside and the inside, the outer margin has a somewhat silvery-white bar which becomes evident as the sepals start to part.
The sepals are long with a pointed recurving tip.
The filaments are a greenish-yellow and the stigma is a pale yellow.
This lovely semi-vigorous plant grows to a grand height of 1.5-2' (45-60 cm) although even at this height it will need support if you do not want it to get blown over and grow along the ground as the stems are not sturdy enough to hold itself permanently erect.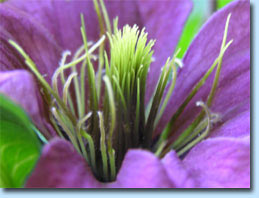 This is a very hardy herbaceous plant which dies down to the ground in winter where it should be pruned to in early March (pruning group 3).
It will flower from June until September producing a continuous stream of semi-nodding flowers. If you find the production of flowers is diminishing after the initial flush you can give the plant a hard prune and a good feed and it will be in flower again within 4-5 weeks.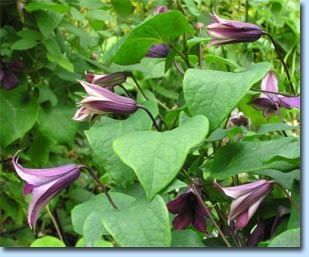 Not an easy to find cultivar although most clematis specialists seem to have it on their lists these days although mine came from the raisers nursery in Christow, Devon.
Plants situated near the front of the border or in a container on the patio need to earn their keep and this cultivar fits the bill perfectly. Only reaching a maximum height of 60 cm it is perfect for these positions and its long flowering period adds to the appeal - but dont forget that support!




| | | |
| --- | --- | --- |
| Flower Colour | - | Sepals of these nodding flowers are as the name implies white. |
| Pruning Group | - | Group 3 |
| Hardiness | - | Zone 3 |
| Height | - | 3-4' or 90-120 cm |
| Flowering Season | - | June-September |
| Aspect | - | Any aspect although best in Sun or Semi-shade |
| Fragrant | - | No |
| Evergreen | - | No |
| Other info | - | A selection of the species |