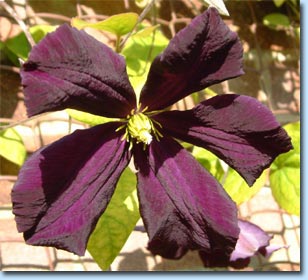 This is a very stunning deciduous late large-flowered cultivar raised from a seedling of 'Deviatyi Val' by Uno Kivistik of Estonia.
The single flowers are produced in late June from new growth and can measure up to 14 cm across, the flowering continues until September.
The flowers are made up of 4-6 (7) sepals which are a dark purple (in the right light they can be very dark when first opening). The sepals have a bright purple bar running down the middle.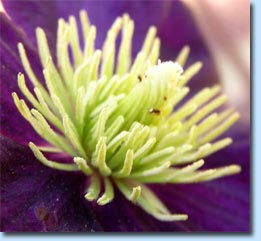 The sepals are overlapping especially where there are six or more sepals, where less they can be gappy.The crimped edged sepals are obovate to rhombic with pointed tips when you can see them as the sepals can take time to expand to their final shape.
The filaments are green-white and are finished with pale yellow anthers.
It usually reaches a height somewhere between 6-8' (180-240 cm).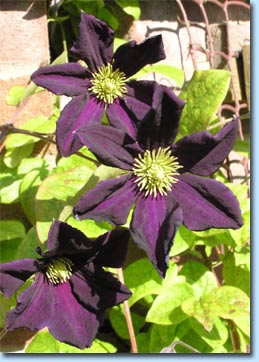 It is a late flowered cultivar and should be pruned almost to the ground in late Feb or early March. Alternatively prune it later to perhaps delay the flowering to coincide with a partnering shrub.
Can be grown in any aspect and does not suffer too much from the bleaching affect of the sun.
An excellent plant for growing up small to medium sized structures or as a partner similar sized shrubs or roses.
Unfortunately such a wonderful plant has got one vice and that is it suffers from mildew so it needs to be positioned somewhere with good air circulation otherwise you should spray it fortnightly with sistemic fungicide.
Not yet a regular cultivar at garden centres so you will probably have to visit a more specialised nursery to get your hands on this one.




| | | |
| --- | --- | --- |
| Flower Colour | - | Sepals are a dark purple (in the right light they can be very dark when first opening) and have a bright purple bar running down the middle. |
| Pruning Group | - | Group 3 |
| Hardiness | - | Zone 3 |
| Height | - | 6-8' or 180-240 cm |
| Flowering Season | - | Late June-September and later |
| Aspect | - | Any aspect |
| Fragrant | - | No |
| Evergreen | - | No |
| Other info | - | Raised from a seedling of 'Deviatyi Val' by Uno Kivistik of Estonia. Can suffer from mildew. |