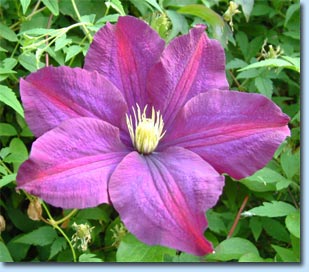 This is a very nice climbing cultivar from the late flowering large flowered group. The single flowers have up to 8 large sepals which overlap their neighbour from a point of about half way along. The flower size can vary somewhat but usually the sepals are about 8-10 cm long making the flowers about 16-20 cm wide. The sepals are obovate which is not so obvious in the first picture but the area near the tip of the sepal is wider than that near the base.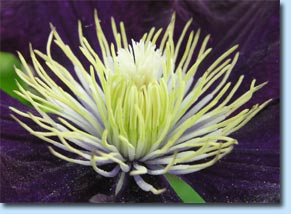 The sepals can sometimes be slightly twisted with crimped edges although this trademark can be somewhat variable.
The sepal colour can be somewhat variable depending on age and direction viewed in relation to the sun. Generally the young sepals take on a velvety dark purple colour with a red tinge from the middle to the tips although this can also vary. The same plant can also display somewhat of a reddish-violet sepal colour, like I have already said the flower colour is very dependant on the time of year and direction of the sun.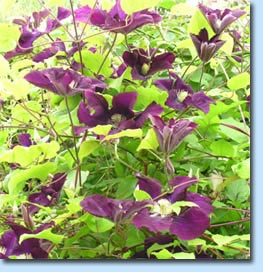 The filaments are white while the anthers are yellow.
This cultivar of unknown parentage usually reaches a height of around 8-10' (240-300 cm) although I believe it can go a lot higher but I think this may be dependant on positioning and pruning as my particular example seems happy at about 8'.
It produces its first flowers from this years growth in June and then continues on until September.
It can be planted in any aspect but a semi shaded aspect is probably its ideal position as this will help the sepals from becoming dulled by the bleaching affect of the sun.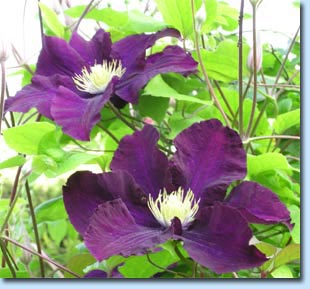 The International Clematis Register quotes this plant as being an early flowered large hybrid and originally this is how I pruned this plant with just a general tidy up.
It seemed to flower but not with the amount of flowers as I was expecting. On one of those days in early spring I decided to have a big tidy up In the garden and promptly chopped this plant down to about 2' (60 cm). As the summer approached did this plant respond or what! It went on to produce one of those displays that you would love from every one of your clematis with the number of flowers almost into the three figure category. Not content with that it kept on producing flowers for the rest of the season. On a bit more investigation I came to realise that the pruning group for this plant is in fact group 3 (hard prune) and I had been doing it wrong for quite a few years. It just goes to show you that plants of this type respond better to hard pruning than to just a general tidy up.

| | | |
| --- | --- | --- |
| Flower Colour | - | The sepal colour is a velvety dark purple with a red tinge from the middle to the tips |
| Pruning Group | - | Group 3 |
| Hardiness | - | Zone 4 |
| Height | - | 8-10'+ or 240-300 cm+ |
| Flowering Season | - | Late June to September |
| Aspect | - | Good for any aspect but best in Semi-shade. |
| Fragrant | - | No |
| Evergreen | - | No |
| Other info | - | Raised by Brother Stefan Franczak of Poland - the parentage is unknown. |