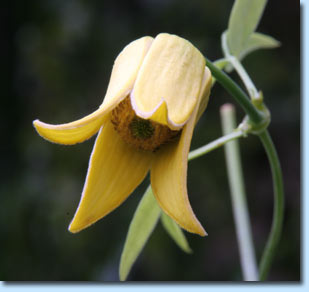 This is possibly a new member of the genus clematis and I mean only possibly as its true identity has not been matched to any existing records. It was discovered by Bleddyn and Sue Wynn-Jones near to Szuyuan village in Ilan County, North Taiwan in 1996. They quote it as being a small scandent/climbing type only to a few meters tall in the wild although mine has now reached the dizzy height of 10' or 300 cm (if left unpruned from the previous year).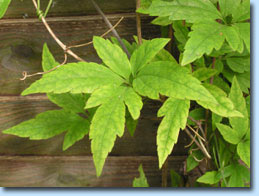 It bears slightly pale yellow pendant flowers with thick textured sepals from the terminal growth and upper leaf axils between, August-October (in the wild) although in cultivation in the northern hemisphere it only make it into full flower by late October (outside of the greenhouse) and given favourable weather conditions.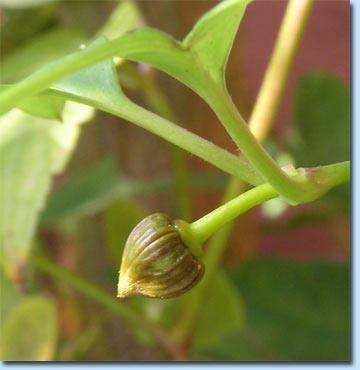 The 4 yellow sepals (on both sides) are 3.5 cm in length and these hide the almost maroon to wine red anthers which are much shorter (1.5 cm). The stigma is about 2mm longer than the anthers allowing it to protrude out from the central boss.
It has been aligned with the meclatis family although it does not seem to bear the vigour of this family.
My own example is now over four years old and it has yet to produce more than three or four good stems although it seems relatively happy in its warm south facing position.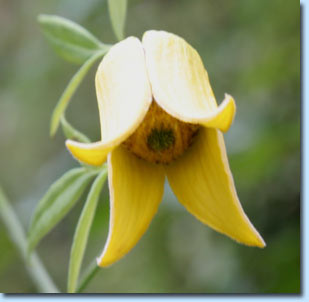 The plant stems seem to retain the same light green colour as the leaves, throughout the growing season, refusing to harden and turn brown as often seen towards the base of other clematis until later on.
As to hardiness this is difficult to say although it survived -5 deg C last winter (although I did place some protection around the base). This temperature hit the upper growth quite hard but it retained some of its lower growth, green leaves and all.
I suppose this could only be classed as a collectors plant and unfortunately if you want one, you've currently got to go to North Wales to get one!
In 2005 this plant was given a Trade designation for sales purposes by Wim Snoeijer as I AM® MYSTERIOUS with the mysterious being related to its unknown classification.


For more detailed pictures of the flowers click here


| | | |
| --- | --- | --- |
| Flower Colour | - | The pendant flowers are a slightly Pale Yellow |
| Pruning Group | - | Group 1 (prune if required after flowering!) |
| Hardiness | - | Hardy to -5 deg C with some protection (so far) |
| Height | - | 10' or 300 cm |
| Flowering Season | - | Late October - November (outside if you're lucky) |
| Aspect | - | Warm protected Sunny site |
| Fragrant | - | Unknown - None that I could detect |
| Evergreen | - | Yes in a warm climate or conservatory |
| Other info | - | Discovered by Sue & Bleddyn Wynn-Jones near Szuyuan village in Ilan County, North Taiwan in 1996 |